Available in Paperback ($24) and Kindle ($5.50).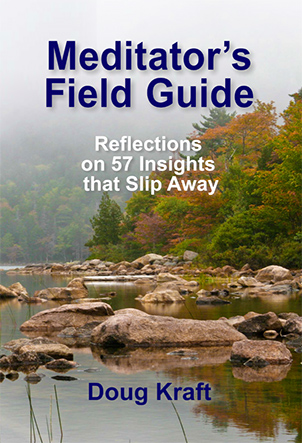 This meditation field guide explores our inner landscape, particularly insights that touch us to the core but slide away like slippery fish. Sitting in meditation or hiking through mountains, we suddenly see life differently. Moments later the vision fades like a dream. We remember there was something important but can't recall what it was. Many meditators have potentially life-changing revelations that their minds have difficulty absorbing.
This book is a collection of reflections on common liberating insights that are easily forgotten. It's a field guide for meditators on the path, embedding ageless teachings in stories and images to bring them to life so they will stick and continue to inspire us.
"I have known Doug for many years now. He has a high-curiosity mind which has helped him dissect and digest much of the spiritual and psychological terrain. What I enjoy particularly is his ability to dive into Buddhist practice and bring his own unique style and understanding to these classical teachings and practices. His many years as a Unitarian minister and as a well-trained psychotherapist makes his view wide as well as deep. I very much respect his views on these teachings."
Below is the Table of Contents for all 57 reflections. They are divided into five groups as explained here. Some of the items are active links that allow you to read that reflection on line or to download a pdf.
Also see Buddha's Map, Beginning the Journey, Kindness and Wisdom Practice, Befriending the Mind, Resting in the Waves, and Presence.
&nbsp
Contents
&nbsp
Introduction
How Buddhism Entered the World
&nbsp
I. Finding a Compass
2. Resilience
3. Rest in the Waves
4. Nothing Is Difficult, Some Things Take Time
5. A Vote for Kindness: No Unchanging Self
6. It's Not Personal
7. Contentment Without a Purpose or Secret Mission
8. Take Care of Awareness and It Will Take Care of You
9. Hissing and Purring
10. Wise View Is No Opinion
11. Six Questions
&nbsp
II. Getting Our Selves Out of the Way
12. Selflessness Grows out of Self Care
14. Freeing the Cows: Observing, not Controlling
15. Unhealthy Desire vs. Healthy Wisdom
16. Self-Torture 101
17. We Get What We Put Our Energy Into
18. Feelings Aren't Thoughts
19. Deliberate Ignorance
20. Don't Scapegoat Distractions
21. Meditation Is About the Mind, Not the Object
22. Attitude of Mind Is Key, Content Is Irrelevant
23. Don't Stand up in the Hammock
25. Alfred Hitchcock Moments
26. Hindrances Like the Back Door
27. Kindness Toward Tension
28. Hindrances As Invitation-Only Guests
29. Crossed Intentions
30. Covert Intentions and Self
31. Recognizing Two Species of Intentions
32. Uprooting Hidden Intentions
34. The Six Rs Are Self-Correcting
35. Six Rs Tune-Up
36. Goodness and Meanness
38. All Techniques Fail
&nbsp
III. Glowing Like a Candle
39. Candles and Flashlights
40. Attunement, Not Attainment
41. Whatever Arises in the Mind Is Not a Problem
42. Mistakes As Teachers
43. The Earworm's Gift
44. Wisdom and Knowing Many Things at Once
45. Natural Multiprocessing
46. Awareness Is Magic
47. Clarity and Acceptance
48. It's Only Pain
&nbsp
IV. Cleaning Up Our Act
49. Engaging Precepts Mindfully
50. Wise Acceptance and the Six Rs
&nbsp
V. Expanding Infinitely
51. Self as Process
53. Stages of Consciousness
54. Consciousness and Selfing
55. We're Not So Different
56. We're Not in the Driver's Seat
57. I Rest in Emptiness
&nbsp
Appendices
A. The Six Rs and Five Ss Overview
B. Forgiveness Meditation
C. Refuges
D. Precepts
E. Aspirations
F. The 3-4-6-8-11-12-16-Fold Path
G. Awareness, Consciousness, and Enlightenment
I. Resources
J. List of Gathas
&nbsp
Gratitude
&nbsp
Index
&nbsp
Comments
&nbsp